This post is also available in:
Français

Workshop 8-13/4/2020
8 April 2020 @ 9h30

-

13 April 2020 @ 14h00

650€
This post is also available in:
Français
Due to the extended lockdown until 15th of April, the School postpones the seminar.
Conditions of this postponement: The School and the Hermitage postpone the deposits already received, on new dates which will soon be published. If these dates were not suitable, the deposits will be refunded.
Sumi-e workshop in April 2020 in Versailles, which is the fifth seminar of the School, 5 days and a half of practice and meditation.
At Ermitage-Accueil, Versailles, room Mère Teresa for painting, and room Frère Robert for meditation.
The course is open to everyone. The indicated price is that requested from the free auditors for the entire course. It is possible to come only during the weekend Saturday and Sunday.
The Hermitage offers accommodation on site. See the description of the place by following this link.
Teachers are Beppe Mokuza Signoritti and Alain Plaignaud.
Click on the brochure to download it: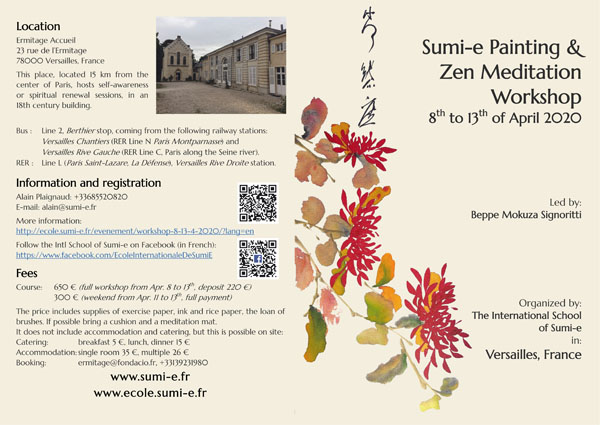 Agenda of this seminar:
Wednesday 8th of April
8:30 Welcoming participants
9:30 Practice of sumi-e
12:30 Lunch (option)
15:00 Practice of sumi-e
18:00 Cleaning
19:00 dinner (option)
20:00 Zazen
Thursday 9th to Sunday 12th of April
7:00 Zazen
8:30 Breakfast (option)
9:30 Practice of sumi-e
12:30 Lunch (option)
15:00 Practice of sumi-e
18:00 Cleaning
19:00 Dinner (option)
20:00 Zazen
Monday 13th of April
7:00 Zazen
8:30 Breakfast (option)
9:30 Practice of sumi-e
12h:30 Lunch (option)
13:30 Cleaning
14:00 End of this seminar
Related Events